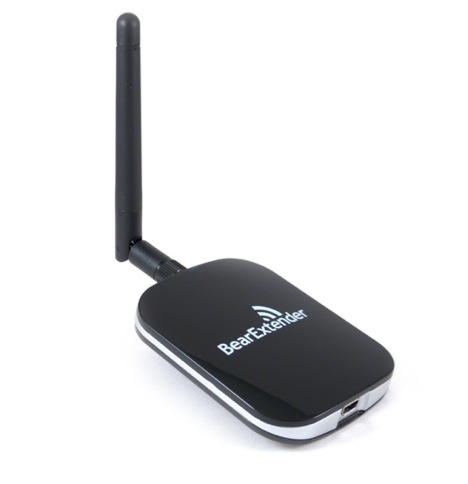 The Power of 700mW
BearExtender n3 contains a high power Wi-Fi radio, with a maximum of 700mW output power. That is about ten times more powerful than the Apple branded AirPort card included in your Mac. Combined with an external 2 dBi gain antenna, BearExtender n3 offers up to 2-4 times the range of your current wireless card (approximately 2X for AirPort Extreme and 4X for the original AirPort 11 mbps card).
BearExtender n3 is a standalone Wi-Fi adapter and can be used with any Macintosh computer, including those that do not have built-in AirPort cards such as older G3 towers, iMacs and PowerMacs.
BearExtender n3 includes a small application that works very similar to the Apple AirPort software which allows you to scan for networks, add favorites, and connect.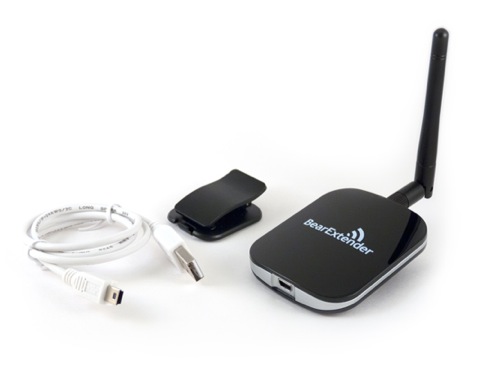 What You Get

Up to four times the Wi-Fi range

Connect and download at higher speeds

See more Wi-Fi networks around you
Easy Setup
Install the software
Restart your Mac, then connect BearExtender n3 to a USB port
Follow the step by step instructions to activate BearExtender n3 as your Internet source
Select your Wi-Fi network from the Wireless Utility and connect!
High Speed 802.11n Built-in
BearExtender n3 is also a great way to add 802.11n wireless networking capability to your older Mac.
802.11n offers higher transmission speeds and greater range over 802.11g and 802.11b networks
Note: BearExtender n3 is compatible with 802.11g and 802.11b networks, but to take full advantage of the BearExtender n3's 802.11n capability, you must use the device with an 802.11n standard router or access point.
With no tools required, BearExtender n3 is the easiest way to add 802.11n to your previous generation Mac.
Convenient LCD Clip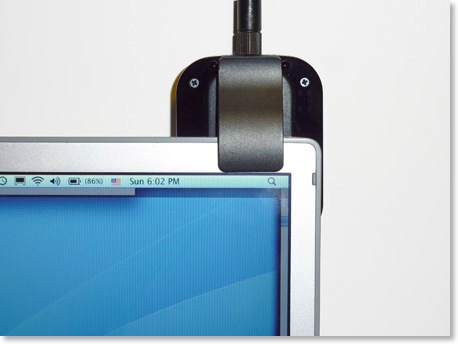 The LCD clip allows you to gently attach BearExtender n3 to your Macintosh notebook or other surfaces such as your notebook bag. The LCD clip can be easily removed from the back of BearExtender n3 with a simple thumb press.
Optional Accessories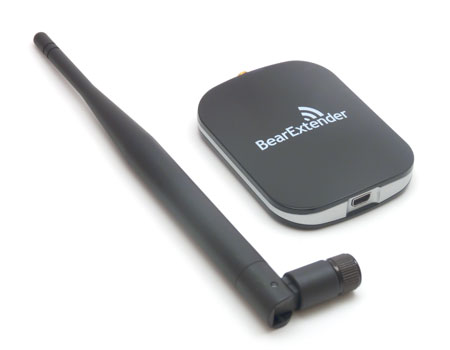 Optional 5 dBi omni directional antenna upgrade
is designed to help you pick up even more signals. This optional upgrade helps you pick up different networks than the standard 2 dBi antenna.
Interview at Macworld Expo 2010:
Or watch on YouTube.com >>
Photo Gallery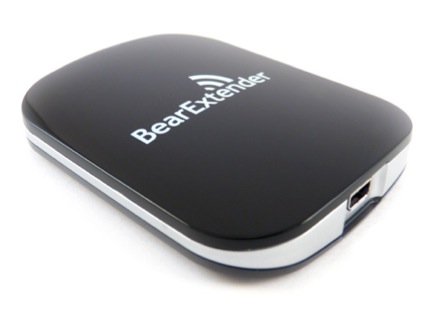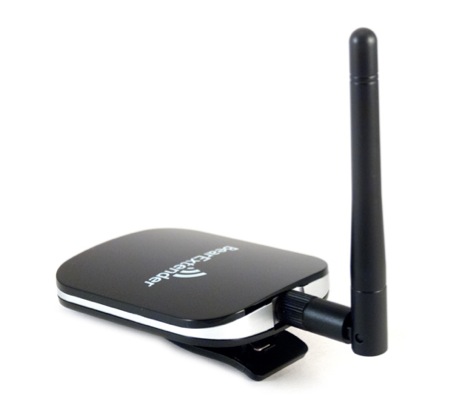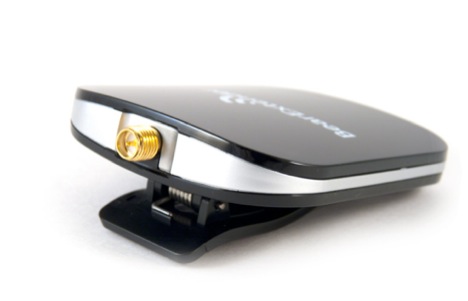 Back view:
BearExtender n3 uses an industry standard RP-SMA antenna port allowing you the flexibility to upgrade to a larger antenna in the future.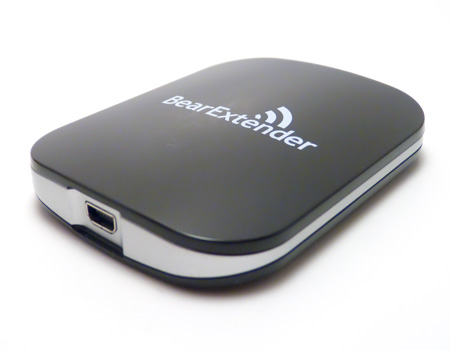 Front view:
BearExtender n3 connects to your Mac using a high speed USB 2.0 interface. Works with older Macs that have USB 1.1 also.
For more views, check out the
BearExtender n3 gallery
.
BearExtender n3 Wireless Utility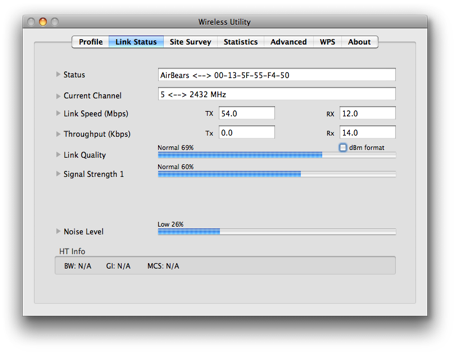 BearExtender n3's Scan Utility shows detailed information on every network nearby– more information than your AirPort menu can display.
Technical Specifications
Powerful Wi-Fi radio transmitter with maximum 0.7 Watt (700mW) output power
Proprietary Monolithic Microwave Integrated Circuit (MMIC) for superior power amplification
Detachable 2 dBi antenna with upgradable RP-SMA antenna port
802.11b, 802.11g and 802.11n certified
2.4Ghz operation with 150 Mbps maximum transmission speed
Supports WEP, WPA, WPA2 Personal security
WPA-Enterprise support on Leopard, Snow Leopard and Lion
USB 1.1 and 2.0 compatible
FCC Certified
Frequently Asked Questions
What kind of range can I expect?
Range depends on a number of factors, including interference (both visible and invisible), the type of wireless network you are connecting to. Because BearExtender n3 uses a 0.7 watt Wi-Fi radio, we are confident that you will be able to see wireless networks which you previously were unable to see, and connect to many existing networks with more bars.
Check out our
benchmark page
for real world tests.
Is BearExtender n3 compatible with my iBook, MacBook, MacBook Pro or other Macintosh computer?
Yes, BearExtender n3 is compatible with Macs running 10.3 Panther, 10.4 Tiger, 10.5 Leopard, 10.6 Snow Leopard or 10.7 Lion. We have tested the device thoroughly on many different Mac models, even back to G3 era machines.
Does BearExtender n3 work with iPad, iPhone or iPod Touch?
At this time, BearExtender cannot be used directly with these devices. This is because iPad does not have a standard USB port.
However it is possible to use BearExtender with a nearby Mac to share BearExtender's stronger signal with iPad. To learn more about using BearExtender as a wireless repeater to increase iPad's Wi-Fi range, click
here
.
Is there a Windows version of BearExtender?
Yes, BearExtender PC edition is compatible with Microsoft Windows XP, Microsoft Windows Vista, and Microsoft Windows 7. To purchase BearExtender PC for use with
Microsoft Windows
computers please click
here
.
Not Compatible

•
First generation iBook "Clamshell"
System Requirements
• One USB Port
• Mac OS 10.3, 10.4, 10.5, 10.6 and 10.7 Lion
• G3, G4, G5 or Intel processor
• An internal AirPort card is
not
required. BearExtender contains all the necessary hardware to transmit and receive Wi-Fi signals.
Using Microsoft Windows?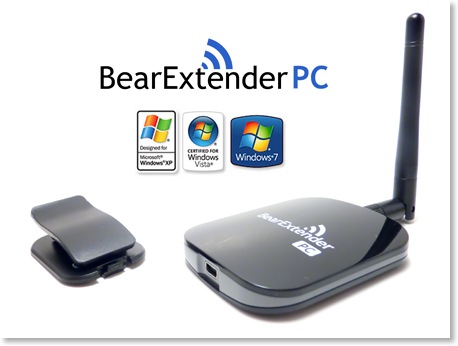 You are viewing BearExtender n3 for use on Apple Mac OS X Operating Systems. To purchase BearExtender PC edition for use with
Microsoft Windows
computers please click
here
.
---