Rave Reviews for BearExtender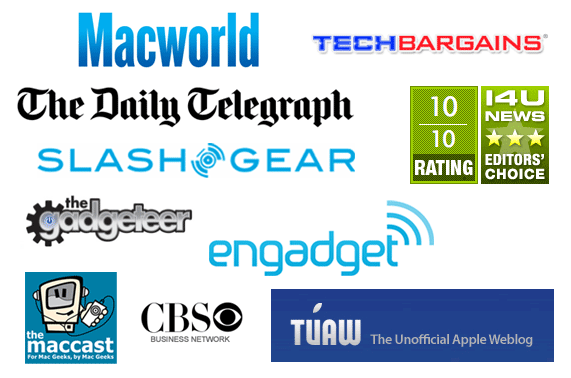 ---


Glenn Fleishman
| 4-15-2010 |
Macworld.com
In testing, I found the BearExtender a wonder...I was able to receive a strong, usable signal from a 2008 AirPort Extreme Base Station that was nearly a block away, while standing outdoors and seeing at least 20 other networks. The MacBook's built-in adapter worked only at a quarter of that distance.


David Winograd
| 1-16-2010 |
The Unofficial Apple Weblog
It's not often that I've come across a product that works perfectly, does exactly what it says it will, costs a lot less than its closest competitor and provides a real and salient difference in my computing experience...In my testing I found that a device showing 57% signal strength using the Airport card became 100% using the BEn3.

Adam Christianson
| 4-16-2010 |
MacCast.com AUDIO REVIEW
...Immediately I got 60 to 80 percent signal strength just from the moment I plugged it in...overall the BearExtender n3 turned out to be about three or four times greater signal strength in exactly the same location...It's a great product, I can't recommend it more highly.

Ewdison Then
| 2-22-2010 |
SlashGear.com
...We tested it with an Apple AirPort Extreme 802.11n router and found that we could almost double the distance between it and the notebook. Much of the time the signal strength read 100, and despite the bulk of the antenna, it clipped to the lid of our test MacBook Pro and proved little of a hinderance...

Wan Chi Lau
| 1-4-2011 |
Rainy Day Magazine
…We found an elegant and 100% effective solution from BearExtender. The BearExtender n3 is a simple plug-and-play USB device that works with Macs running OS 10.3 or later…Our connection has been 100% stable since including the BearExtender n3 in our setup. We are extremely pleased that our Mac Mini WiFi issue has finally been laid to rest. We can now enjoy our Hulu and Netflix viewing without interruption.
Twitter Praise





Dutch translation
: Super device for those who depend on WiFi: Bearextender. I went from 4 to 15 hotspots in my location



Dutch translation
: My BearExtender is proving yet again a super purchase


Customer Reviews
Michael P.
| 12-20-2011 | via E-Mail
I just got my Bear extender and can't believe how incredible it is. Especially in comparison to the TP-Link (TL-WN722N). The TP-Link was only able to get 2 out of 5 bars. With the Bear extender I get 4 out of 5 bars. I don't know how you guys do it. This thing is freaking incredible!!! I tried to go cheap and get the $10 TP-Link and as they say, "you get what you pay for." I learned my lesson. I'm on the 3rd floor of my office building and am able to pull up the wifi signal from the first floor with 4 bars. This thing is like magic! This is the best $40 bucks I've ever spent!


Farzad R.
| 12-23-2011 | via E-Mail
I am using BearExtender for MAC and it boosts my wireless power by almost 10 times. I have been using this MAC book pro in my room close to uni for so long but I have never been able to connect to uni internet from this place. But with BearExtender I have 90% and 80% quality and strength which let me watch HD youtube videos with no interruption…I am supper satisfied and happy to find BearExtender.


Fred H.
| 10-10-2011 | via E-Mail
I have had my BearExtender for over a year now & I love it. I am ordering this one for one of the firefighters at my base because he is buying a Mac and had been asking about the BearExtender I use on a regular basis. The products and customer service your company has provided me has been awesome. Keep up the great work.


Howard S.
| 9-13-2011 | via E-Mail
I couldn't be more pleased with your product and, most importantly, your product support. In this day of impersonal, lackadaisical, unknowledgeable, product support you guys rock as true customer oriented professionals! My best wishes to you and your associates for continuing and future success - which is well deserved.


David A.
| From the UK | 2-17-2011 | via E-Mail
Just wanted to say that I recently purchased a Bearextender and installed it yesterday. It is brilliant. Has improved signal strength from Very Low to Very High - with the longer aerial. The 5 bar signal strength now shows a constant 4 - from previous constant 1 bar.


Wendy B.
| From the UK | 2-10-2011 | via E-Mail
I have just received my bearextender from the USA and would like to say what a brilliant product this is. I had been trying to get a wifi signal from my router when in a room no more than 20 feet away. However a really thick wall meant that the signal was non existent. not now! Bearextender is giving me a 4-bar signal all the time.


Austin N.
| 1-21-2011 | via E-Mail
I received the shipment within a week of my initial order (was definitely surprised to receive it so quickly) and have been more than impressed with how much of a difference it has made! Before, there was no way I could use Skype. Now that I've been using your product I've been able to video chat with my girlfriend and family halfway across the world and that means more than I can explain on a deployment. It has worked as advertised and has exceeded my expectations. Thanks again for all of your help and I'll be recommending this product to anyone I know who is in the market for one! Take care!


Joe C.
| Mac Mini 10.6.5 Snow Leopard 12-25-2010 | via E-Mail
I just received my BearExtender n3. I have a Mac Mini running OS X 10.6.5 with an AirPort card and an AirPort Extreme base station. All wireless. I was simply blown away by the results. I went from averaging around 7-10 Mb/s downstream to a consistent 25 Mb/s with no other network changes. However, speed was not the only reason why I bought the BearExtender…Every second counts in trading, and the constant packet loss and DNS errors forced me to quit trading. No more. Thank you guys for making an incredible product. I can now get back to work.


Matt D.
| 12-23-2010 | via E-Mail
I live on the outskirts of a rural community and have no option for internet in my home. With helpful neighbours willing to share their network, and this frickin amazing lil thing, I can now get an excellent signal, whereas I was randomly just seeing my neighbours network before. The setup was crazy simple, the asthetics are awesome, and the functionality is perfect, and perfect is not an adjective I use very often. I will be buying again to gift.


Erik H.
| iMac 10.4 Tiger | 9-25-2010 | via E-Mail
I'm sure that you've heard all of this before, but here it is again: This thing is awesome! I can't believe how well this works. Even better than promised. The signal strength is incredible. Thanks to the Bear Extender, I'm able to send and receive all of my files with lightning speed. I looked all over for a similar product, but couldn't find one that would work with my I-Mac. I'm so glad your site was recommended to me! Thanks again for producing such an amazing product.


Larry P.
| MacBook Pro | 9-22-2010 | via E-Mail
I narrowed down the search for a WiFi extender for my MacBook Pro to a couple options. Reviews pointed out that the BearExtender did exactly what it said it did only it had a very difficult software install. Prepared for a long process, I put the thumb drive into my laptop and was surprised to have everything up and running in 5 minutes. Not sure where people got the experience of how difficult it was but it seemed pretty clear to me. I now have 17 networks show up on my laptop at home where I had two or three, in addition to my own, in the past. Very cool.I'm happy to have this for upcoming travels! I'd highly recommend the BearExtender to anyone needing a WiFi boost.


Jill W.
| 9-21-2010 | via E-Mail
Just got this yesterday ... I have to say I was worried that I was going to run into problems with the install since I am not a techie. The install was super easy though! It took me 5 minutes! The BearExtender is working great. I needed some solution for using my MacBook Pro at my office (connecting via wifi from the coffee shop next door). I had such a weak signal with the Airport card and could not stream video or music. With the BearExtender I can do it all and it is fast!! I love it. Thanks for a great product.


Lisa N.
| 8-18-2010 | via E-Mail
thanks so much for the BearXtender. it works perfectly on my daughter's computer - her room is on the other side of the house from our router, and with the BearXtender, she has perfect signal now.


Ryan B.
| 7-20-2010 | via E-Mail
I just want to say that I cannot thank you enough for this product. I have been working at the same place as a teacher for 4 years and always had trouble getting a wifi signal because where my classroom was positioned. It would become very frustrating when I wanted to show my students something on the Web and was unable to because of the in and out signal I was receiving. So, when I went into my local Apple Retailer for another issue, I asked the person if there was a product that he knew about that would help me pick up a stronger wifi signal, and I explained my situation. He quickly without hesitation recommended your product. Thus, I went online and purchased it right away. When it arrived I was a little skeptical as to whether or not it would work, maybe due to its size. However, I couldn't wait to test it, and the next day I drove to work and gave it a try. I turned on my laptop, plugged-in the BearExtender and.....it WORKED!!!! I was so thrilled!!!! Now I cannot wait for the new year to begin so I can use the internet to expand my students' learning. Thank you so much for developing such a wonderful product!!!


George C.
| iMac UK | 6-24-2010 | via E-Mail
BearExtender arrived OK. Very pleased with it. I wanted it for use in my trailer home on a holiday park. They have a central wifi but due to the location of my trailer wifi signal was very bad. I have connected the Extender to a 3 ft long external antenna and the signal now is great! Very quick and easy install good idea having the drivers on a memory stick. Apart from my iMac the Bearextender is the best piece of computer kit I've ever bought.


Bob S.
| MacBook Pro w/10.5 | 6-8-2010 | via E-Mail
I am setting in a campground , with the nearest open wifi approximately a mile away. I added a 10 ft. usb cable to your wifi BearExtender n3 and stuck it about 10ft in a trees and am getting a good enough signal to send this. Thanks and keep up the good work.


William R.
| MacBook Pro | 5-24-2010 | via E-Mail
I bought the BearExtender n3 based on good reviews and was not disappointed. It helped me in the signal areas that I really needed it and had a very weak reception but even better it made my so so reception areas become excellent reception areas. Installation was easy and now I always have it on.


Pedro L.
| PowerBook G4 | 4-24-2010 | via E-Mail
Just received it today. Wonderful product, I have a Mac G4 aluminum, 1.25 Ghz, it works perfect, I'm picking up more signals than expected, strong and stable. Thank you very much.

Webb C.
| MacBook Air | 3-5-2010 | via E-Mail
I am sending this to you from my boat on a mooring a quarter mile offshore from a marina hotspot in Opua, New Zealand. I bought the bearextender a month or so ago while back at my home in the U.S., but didn't need it there. I've tried several other external antennas on my MacBook Pro and Air. Some didn't work at all. The one I have been using from JeFa Tech did, but is 18" long, big and awkward to stow. Frankly to my surprise, your bearextender gives me as good a signal even while using the short cable and sitting inside the boat's cabin. It set up easily. Works flawlessly. And costs less than half the JeFa Tech unit. I give you 10 out of 10, and am recommending you to my other sailing friends.


Ian W.
| MacBook Pro | 1-22-2010 | via E-Mail
I came across this product on www.TUAW.com. They did a review of it and had nothing but great things to say. So, for only $45, I said "Why not?" The ordering was quick and easy and it was here in just a couple of days. It took a couple of minutes to set it up and I was off. On my built in wireless card I could see 6 networks at home. With this product...20!!! It was amazing at how it sucked them in! I have already called several friends recommending it for them. This product is going to take off when word gets out! Thanks for a great product that does exactly what is says it will. Best $45 I have ever spent for my laptop.


Alan Geller
| MacBook Pro | 1-21-2010 | via E-Mail |
Link
The Bearextender N3 was the perfect solution for me to be able to hook up to wifi at the "clubhouse" at our place in Key Largo - from my Living Room! It arrived quickly, was a snap to install on my Macbook Pro, and having the installation files on a USB drive was a bonus (plus smart and "green")...I was able to watch a TV show on HULU on medium resolution uninterrupted on my computer where, without the N3, I could not even connect to this WIFI access point consistently. Based on my 2 experiences - all the glowing comments on the Bearextender N3 and Rokland are not only true, but well deserved.
Cameron
| MacBook | 1-13-2010 |
Link
The Bear Extender is working great. The reception is great (see comments below). The software seems to be working well, it wakes up from sleep and reacquires the home router. I needed this as a result of my wife's MacBook having weak wireless reception. I tried troubleshooting with Apple a bit, they wanted me to upgrade to the latest OSX and for that I needed memory. In the end those changes did not help. I considered opening the MacBook to repair or replace the Airport. I have the skills but there are so many screws to keep track of for re-assembly. Then the airport card would have been $80. So I found your price to be a nice alternative to repairing the airport along with no need to disassemble. My wife is happy and I am happy.
Colin Thompson
| PowerMac G5, MacBook Pro | 1-12-2010 |
Review link
I live in a valley called The Promised Land in Bellingen on the east coast of Australia and I had been looking everywhere for something to extend my wireless network. My office is out in the garden and none of the wi-fi devices I tried - Apple Time Capsule a Netgear router and a Belkin one - would reach it. When I saw the Bear Extender I was very skeptical, but I thought, 'It's less than $50 so I might as well try it.' I plugged it into my old dual G5 PowerMac and configured it to extend my existing network. I now get a full five bars on my Quad Core Intel PowerMac and the same on my MacBook Pro. It's brilliant and does EXACTLY as advertised. Five Stars for Five Bars!!
Interview at Macworld Expo 2010:
Or watch on YouTube.com >>
Benchmarks
We tested signal strength using an AirPort Extreme card (b/g/n) in a MacBook Pro against the BearExtender n3.
Signal strength measurement was performed using
AirRadar
.
The MacBook Pro was running on battery power using the Energy Savings profile "Better Performance." Bluetooth was disabled. The MacBook Pro was running Mac OS X Leopard 10.5.8 with all updates installed as of November 2009.
Test Results
Location: Apartment complex (North side UC Berkeley campus)
| | | |
| --- | --- | --- |
| Network | AirPort | BearExtender n3 |
| CicisExtremePizza4 | 62 | 100 |
| 2WIRE281 | 54 | 100 |
| a3711d5e834900ec | 54 | 100 |
| 2WIRE465 | 42 | 100 |
| zottolo | 37 | 94 |
| dvnet | 33 | 68 |
| Qing Lab | 27 | 99 |
| Diablo | 32 | 83 |
| ENGEL WAN | 26 | 73 |
| 2WIRE330 | 26 | 63 |
| Dlove | 28 | 78 |
| portnoy2 | 19 | 68 |
| tis_home2 | 19 | 83 |
| 2WIRE202 | 20 | 47 |
| SpruceNet | 29 | 78 |
| CWP | 18 | 23 |
| Mills Lab | 18 | 47 |
| hpsetup | Out of Range | 31 |
| MINE | Out of Range | 57 |
| wallislab | 20 | 37 |
| the cake is a lie | Out of Range | 37 |
| AirBears F0 | Out of Range | 52 |
| ECoG | Out of Range | 37 |
| NewYorker | Out of Range | 57 |
Location: UC Berkeley Campus (Wheeler Hall 206)
| | | |
| --- | --- | --- |
| Network | AirPort | BearExtender n3 |
| OpenAirBears | 53 | 100 |
| AirBears 59 | 43 | 100 |
| AirBears 10 | 20 | 57 |
| Airbears OC | 19 | 52 |
| Airbears EA | 18 | 52 |
| Airbears 2B | Out of Range | 52 |
| hpsetup | Out of Range | 52 |
| OpenAirBears C0 | Out of Range | 42 |
| RESCOMP | Out of Range | 47 |
| AirBears 90 | Out of Range | 37 |

Location: UC Berkeley Campus (Giannini Hall 234)
| | | |
| --- | --- | --- |
| Network | AirPort | BearExtender n3 |
| AirBears 90 | 45 | 100 |
| 128b Giannini | 42 | 100 |
| AirBears C0 | 18 | 68 |
| altstadtmafia | 29 | 89 |
| dd-wrt | 25 | 78 |
| AirBears D0 | 24 | 73 |
| AirBears E0 | 23 | 78 |
| AirBears 97 | Out of Range | 52 |
| RASPA | Out of Range | 52 |
| 151 Hilgard | Out of Range | 52 |
| Annya | Out of Range | 47 |
| PLANET909 | Out of Range | 42 |
| 151 2nd Hilgard | Out of Range | 37 |
| AirBears 10 | Out of Range | 37 |
| TRENDnet | Out of Range | 31 |
| Dumbledore | Out of Range | 37 |

Location: Coffee shop (Sufficient Ground Cafe, South side)
| | | |
| --- | --- | --- |
| Network | AirPort | BearExtender n3 |
| 2652 4034 | 66 | 100 |
| 2WIRE114 | 36 | 100 |
| 7773 2520 | 41 | 100 |
| linksys | 36 | 47 |
| Sufficient Grounds | 34 | 99 |
| AnchorFree | 37 | 100 |
| linksys206 | 36 | 83 |
| bkramer | 21 | 47 |
| zzzzz | 24 | 83 |
| penguins | Out of Range | 52 |
| TECA | 19 | 68 |
| pavy-net | 25 | 68 |
| NOSCO | 22 | 52 |
| FoneART Sprint | Out of Range | 52 |
| mom | Out of Range | 31 |
| cymo | Out of Range | 31 |
| NETGEAR | Out of Range | 26 |
| BLVD | 19 | 47 |
Location: Downtown Berkeley (Bank of America, Shattuck)
| | | |
| --- | --- | --- |
| Network | AirPort | BearExtender n3 |
| 4741 1260 | 37 | 94 |
| Subway | 32 | 78 |
| GMOGUEST | 32 | 63 |
| 2WIRE878 | 31 | 78 |
| 2WIRE081 | 30 | 99 |
| Kaplan | 27 | 83 |
| AirBears Extreme | 29 | 78 |
| 80211N_IR_GUEST | 26 | 73 |
| hpsetup | 26 | 73 |
| 2WIRE247 | 25 | 83 |
| evan | 24 | 73 |
| HRA 11th Floor | 28 | 94 |
| Addison Annex | 23 | 63 |
| Dooknet | 23 | 89 |
| IR_Guest | 23 | 68 |
| IR | 23 | 63 |
| 2WIRE883 | 22 | 78 |
| BMSGnet | Out of Range | 89 |
| 2WIRE913 | Out of Range | 73 |
| 2WIRE914 | Out of Range | 68 |
| Hanilk | Out of Range | 63 |
| Suite 200 | Out of Range | 63 |
| QP Network | Out of Range | 68 |
| peoples1 | Out of Range | 52 |