Extend the Wi-Fi range of your Mac!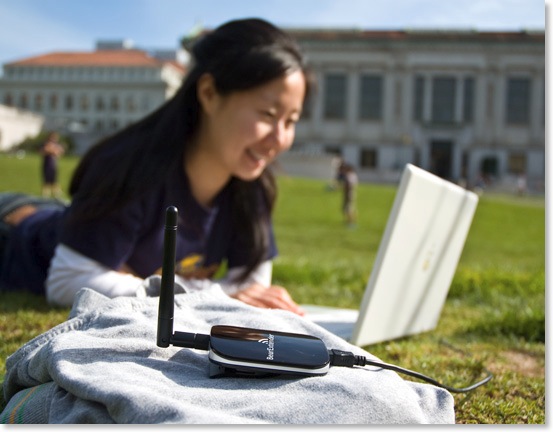 See more views in the BearExtender n3 gallery.

BearExtender n3 is a high power Wi-Fi radio with an external antenna that increases the range of your Mac's Wi-Fi signal–
up to four times as far as your internal AirPort card!
BearExtender n3 is a simple plug and play USB device that works with Macs running Mac OS 10.3 Panther, 10.4 Tiger, 10.5 Leopard, 10.6 Snow Leopard or 10.7 Lion.
BearExtender's 0.7 Watt (700 milliwatt) maximum power Wi-Fi radio is over 10 times as powerful as the internal AirPort card that shipped in your Mac (32mW)
| | |
| --- | --- |
| AirPort Extreme Card Maximum Power Output | BearExtender n3 Maximum Power Output |
| 32 mW | 700 mW |
Check out the
Benchmarks page
for real world comparisons.
BearExtender n3 is named after its original goal of helping students at the
University of California, Berkeley
connect to their wireless network called AirBears.