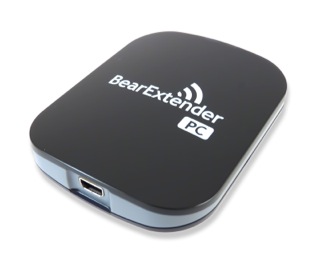 Increase your Wi-Fi Range!
BearExtender PC is a long range, high-powered 802.11n Wi-Fi USB receiver that offers up to 4X the range of standard range WiFi products.

BearExtender PC works with laptop and desktop computers running Microsoft Windows XP, Microsoft Windows Vista or Microsoft Windows 7.

BearExtender PC is the easiest and proven method for increasing your computer's Wi-Fi Range. Read on for trusted reviews and benchmarks.


What You Get

Up to four times the Wi-Fi range

Connect and download at higher speeds

See more Wi-Fi networks around you
BearExtender n3 for Macs is rated 4 out of 5 stars by MacWorld, has been featured by popular sites like Engadget and TUAW, and has been well reviewed by a number of other publications and of course our customers.
Read the reviews here >>
Now Windows users can enjoy all the power of BearExtender on their PC's!
Technical Specifications
700 mW Maximum Power Output
Award winning -92 dBm Sensitivity
802.11n, 802.11g and 802.11b
Supports WEP, WPA, WPA2 Personal, WPA-Enterprise and WPS encryption.
2.4Ghz operation with 150 Mbps maximum transmission speed
USB 2.0 (backward compatible with USB 1.1)
Proprietary Monolithic Microwave Integrated Circuit (MMIC) for superior power amplification
RP-SMA Antenna Port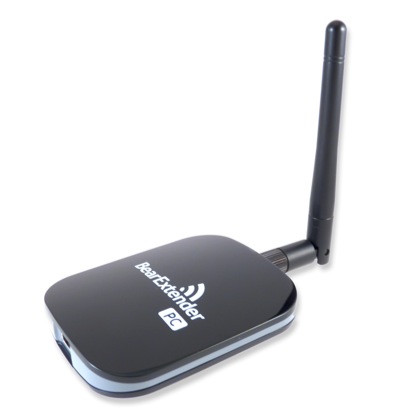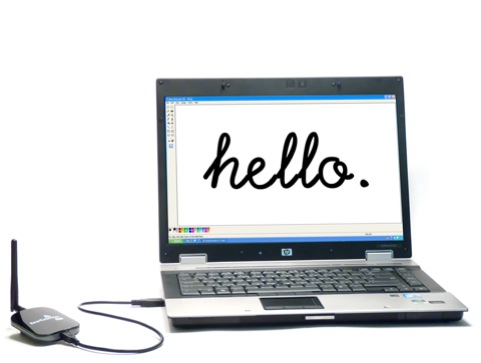 Just connect BearExtender PC to an available USB port.

---
Compatibility
• Microsoft Windows XP
• Microsoft Windows Vista
• Microsoft Windows 7
• 32-bit and 64-bit compatible
Windows 2000 is
not
supported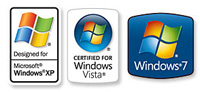 An internal Wi-Fi card is
not required
to use BearExtender PC. BearExtender PC contains both a Wi-Fi transmitter and receiver.
BearExtender PC is the perfect solution if your internal Wi-Fi card is not working, if your PC did not come with internal Wi-Fi, or if you are looking to pick up more Wi-Fi networks with stronger signal strength.
Without BearExtender PC: 7 networks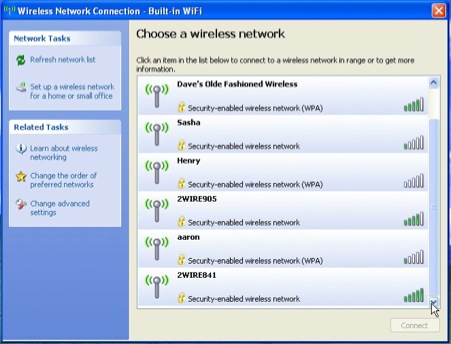 The built-in 802.11b/g/n Wi-Fi card on our Microsoft Windows XP laptop
can only detect 7 networks
. One network is at the top of the list, the last 6 are shown above. Notice how the networks "Sasha", "Henry" and "aaron" are low.
With BearExtender PC: 14 networks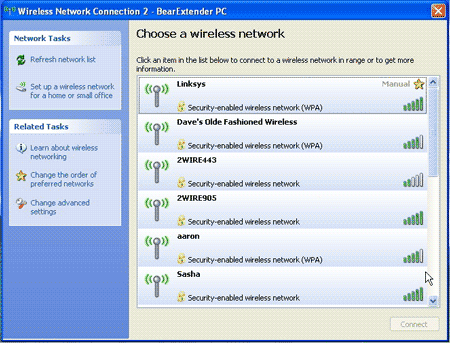 14 networks are now detected
thanks to BearExtender PC, twice as many networks as the built-in WiFi card!
The networks "Sasha", "Henry" and "aaron" are all boosted.
Reviewed on...

"To put it simply: this thing works. At 240 feet, with a concrete wall between us and our 802.11b/g router, our laptop's integrated WiFi receiver gave up the ghost but the BearExtender PC felt like it was just getting warmed up...at $45 this is great deal if you are cursed by low signal strength and just don't feel like dancing.."

- Tim Stevens
Read the Full Review >>
---
"We don't hand out perfect 5 out of 5 scores easily…Simply put, we're impressed with the BearExtender PC on all fronts. It's compact and portable, it grabs hold of weak Wi-Fi signals when most other network adapters would wave the white flag."

- Paul Lilly
Read the Full Review >>
---
"At the end of the testing, I came away impressed with the BearExtender PC...The wireless capabilities of my laptop were significantly increased, which is exactly what it was developed to do. If you're looking to increase the speed and range of your wireless, this is the product to buy...The price is right, the quality is there, and the BearExtender PC works as advertised. I highly recommend this to anyone looking for a USB Wireless adapter."

- Adam Scinto
Read the Full Review >>
---

"The BearExtenderPC is currently the one to beat with a claimed fourfold increase in range. It clips to the screen surround so its high up and doesn't get in the way. It comes with a 2dBi external antenna as standard and there's an optional 5dBi omnidirectional antenna for pulling in really weak signals."

- Rick Maybury
Read More >>
---

"Wi-Fi signal strength outside the Panera Bread where I'm currently working: two bars. Wi-Fi signal strength with the BearExtender PC plugged into my laptop, same location: five bars. I think that about sums it up. "

- Rick Broida
Read the Full Review >>
---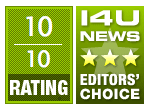 "This is hands down the best WiFi adapter I have ever tested and has connectivity and data speeds that blow away the competition.

- Shane McGlaun
Read the Full Review >>
---
High Speed 802.11n Built-in
BearExtender PC is also a great way to add 802.11n wireless networking capability to an older Windows computer.
802.11n offers higher transmission speeds and greater range over 802.11g and 802.11b networks
Note: BearExtender PC is compatible with 802.11g and 802.11b networks, but to take full advantage of the BearExtender PC's 802.11n capability, you must use the device with an 802.11n standard router or access point.
Easy Setup
Install the software from the CD-ROM
Plug in the USB cable and turn off your built-in Wi-Fi
Select your Wi-Fi networks from the list
Benchmark
The following test was conducted by
Engadget.com
on December 10th, 2010. Read the full review
here
.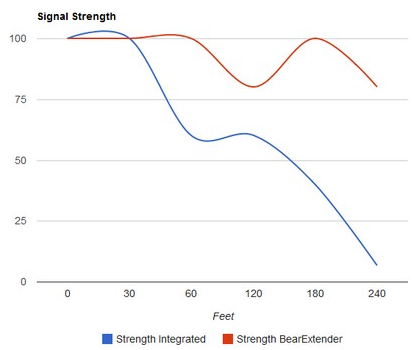 Blue
= Built-in WiFi card on a Lenovo T400
Red
= With BearExtender PC
At 240 feet, the internal WiFi card has dropped to almost 0% signal strength. At the same distance, BearExtender PC has more than 75% signal!
LCD Clip Included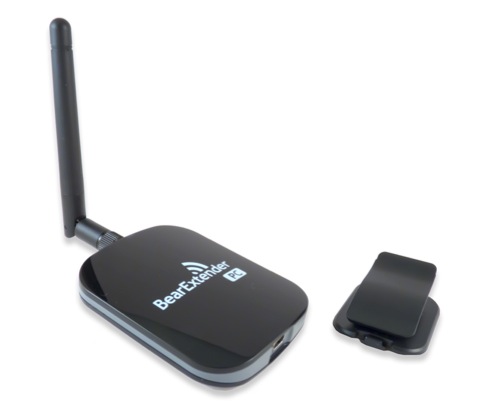 The LCD clip allows you to gently attach BearExtender PC to your laptop. The LCD clip can be easily removed from the back of BearExtender PC with a thumb press.


Upgradable Antenna Port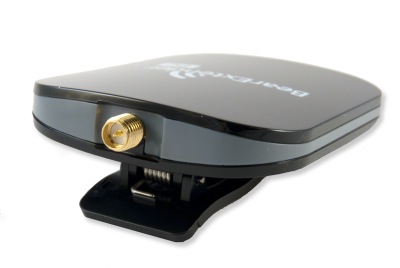 BearExtender PC uses an industry standard RP-SMA antenna port, allowing you the flexibility of attaching a larger antenna in the future.


Optional Accessories for Even More Range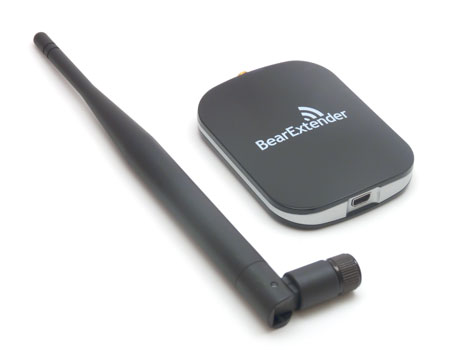 Optional 5 dBi omni directional antenna upgrade
is designed to help you pick up even more signals. This optional upgrade helps you pick up different networks than the standard 2 dBi antenna.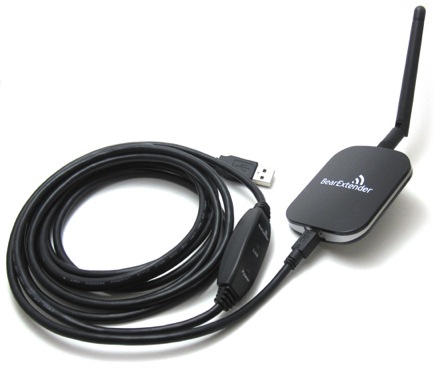 Optional 10 foot Mini USB Extension Cable
allows you to place BearExtender in an optimal location, such as next to a window or away from appliances and metal objects. Every BearExtender includes a standard 2 foot USB cable.
Additional Views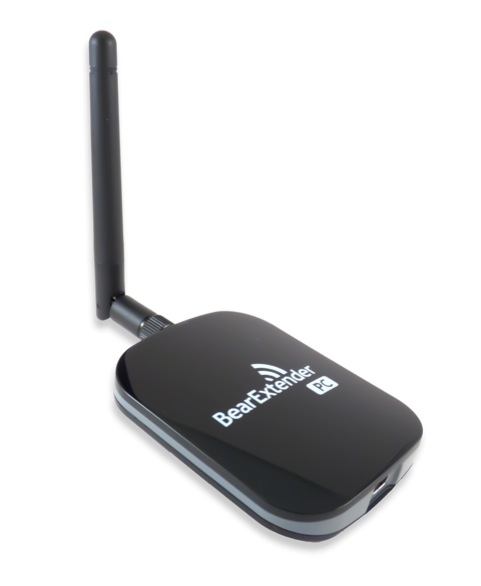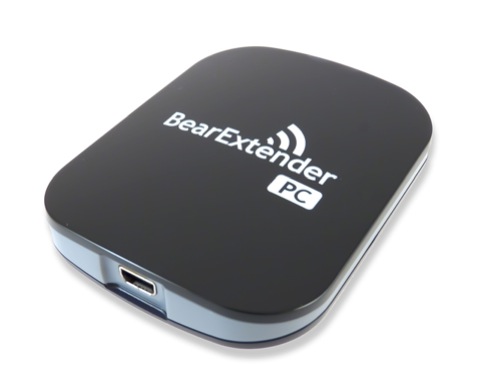 USB Mini connector on front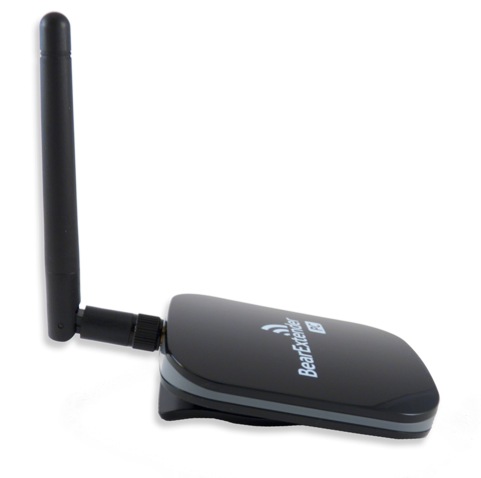 Removable 2 dBi antenna with upgradable RP-SMA antenna jack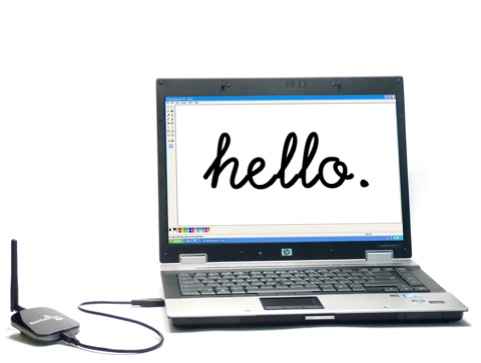 ---
Using a Mac?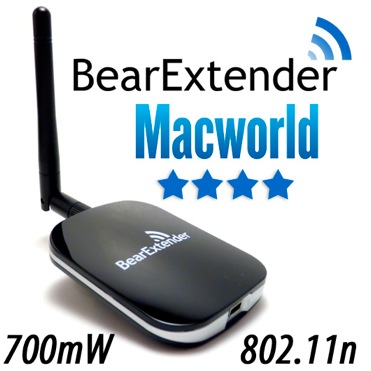 You are viewing BearExtender PC for use on Microsoft Windows Operating Systems. To purchase the original BearExtender n3 for use with Apple Macintosh Computers on Mac OS X, please click here.

---
Frequently Asked Questions
Does my computer need to have a Wi-Fi card inside to use BearExtender PC?
An internal Wi-Fi card is not required to use BearExtender PC. BearExtender PC contains both a Wi-Fi transmitter and receiver. BearExtender PC is the perfect solution if your internal Wi-Fi card has become damaged or broken, or if your computer did not come with a built-in Wi-Fi card.
Is BearExtender PC Windows 32-bit and 64-bit compatible?
Yes, BearExtender PC works on both 32-bit and 64-bit versions of Windows.
Do you ship BearExtender PC to international destinations?
Yes, we ship worldwide. Please click here to see our international shipping options, policies and prices.
What is the return policy?
BearExtender PC may be returned for refund or replacement within 30 days from date of receipt. Shipping and return shipping fees are not refundable. More info
Do you ship to APO military addresses or US territories?
Yes, we ship to the 50 US States, APO military addresses, and US territories including Guam and Puerto Rico. If you have any problems placing your order, please do not hesitate to contact us. Please send questions to support@bearextender.com
Twitter Praise




Dutch translation
: Super device for those who depend on WiFi: Bearextender. I go from 4 to 15 hotspots in my location

Customer Reviews
Michael P.
| 12-20-2011 | via E-Mail
I just got my Bear extender and can't believe how incredible it is. Especially in comparison to the TP-Link (TL-WN722N). The TP-Link was only able to get 2 out of 5 bars. With the Bear extender I get 4 out of 5 bars. I don't know how you guys do it. This thing is freaking incredible!!! I tried to go cheap and get the $10 TP-Link and as they say, "you get what you pay for." I learned my lesson. I'm on the 3rd floor of my office building and am able to pull up the wifi signal from the first floor with 4 bars. This thing is like magic! This is the best $40 bucks I've ever spent!


Greg K.
| 10-5-2011 | via E-Mail
This is just an update to my previous review. To start with, I now own 2 Bear Extenders. One is being used in our studio camera room and the other for our studio showroom which in turn is used when we photograph special events. I reviewed the one used in the camera room previously and it is still working flawlessly. The second bear Extender was taken recently to a event at the Killeen Convention Center and OMG. The center manager stated that there was free Internet in the building, but no one was ever able to connect from the side that we had to set up our portable studio.


I bet you would never guess what happened. I set up the laptop, plugged in the bear Extender and the manager's jaw dropped. 5 bars right off the bat. We were sitting 300 feet from the wireless access point, had more aluminum and steel between us and the access point then you would ever want (by the way my cell phone did not get a signal), and we were on the Internet in seconds. Now that is what I call a top notch product. We were able to process picture orders on the spot through our on-line merchant account with not a single drop out. If you don't have a Bear Extender, you're doing things the hard way. Simply the best product I can think of.


David A.
| From the UK | 2-17-2011 | via E-Mail
Just wanted to say that I recently purchased a Bearextender and installed it yesterday. It is brilliant. Has improved signal strength from Very Low to Very High - with the longer aerial. The 5 bar signal strength now shows a constant 4 - from previous constant 1 bar...My Microsoft trained computer engineer friend has seen it and is very impressed. The best signal booster he has seen.


Wendy B.
| From the UK | 2-10-2011 | via E-Mail
I have just received my bearextender from the USA and would like to say what a brilliant product this is. I had been trying to get a wifi signal from my router when in a room no more than 20 feet away. However a really thick wall meant that the signal was non existent. not now! Bearextender is giving me a 4-bar signal all the time.


Austin N.
| 1-21-2011 | via E-Mail
I received the shipment within a week of my initial order (was definitely surprised to receive it so quickly) and have been more than impressed with how much of a difference it has made! Before, there was no way I could use Skype. Now that I've been using your product I've been able to video chat with my girlfriend and family halfway across the world and that means more than I can explain on a deployment. It has worked as advertised and has exceeded my expectations. Thanks again for all of your help and I'll be recommending this product to anyone I know who is in the market for one! Take care!


Greg K.
| 12-28-2010 | via E-Mail
Just wanted to drop a quick note to say that the BearExtender for a PC is phenomenal. I had only intermittent wireless in my photo studio, and this was on a good day. The wireless signal had to travel 115 feet and through 5 walls, one of them was double layered brick. As soon as I plugged in the signal shot up to 4 bars. To me this was the best Christmas present that I could have had. Kudos to you folks and keep up developing this fantastic little device. I know it will be hard to improve on the best of the best.
Technical Specifications
700 mW Maximum Power Output
Award winning -92 dBm Sensitivity
802.11n, 802.11g and 802.11b
Supports WEP, WPA, WPA2 Personal, WPA-Enterprise and WPS encryption.
2.4Ghz operation with 150 Mbps maximum transmission speed
USB 2.0 (backward compatible with USB 1.1)
Proprietary Monolithic Microwave Integrated Circuit (MMIC) for superior power amplification
RP-SMA Antenna Port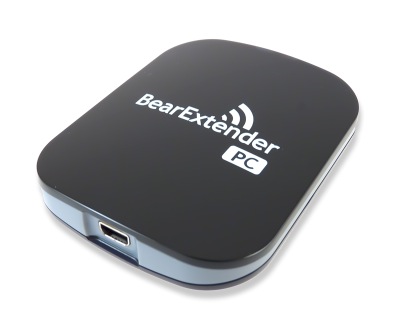 Rave Reviews