10 Foot Mini USB Active Repeater Extension Cable
Compatible with
BearExtender Mac
and
BearExtender PC
.
Better Placement = Better Signal
Use our specially designed 10 foot mini USB active repeater extension cable to place BearExtender next to a window or away from appliances, metal objects and other 2.4Ghz devices.
The placement of BearExtender can sometimes make the difference between getting a good signal and not picking up a signal at all.
Appliances, walls and other electronic devices can interfere with Wi-Fi signals
What You Get

Place BearExtender up to 10 feet away from your computer

Reduced interference and higher signal strength

No signal gain loss

This cable is recommended for RV and boat users since such vehicles are often constructed from materials that reflect Wi-Fi signals.
Active cable technology
Standard USB extension cables are designed for low power devices like a mouse or keyboard. These low power cables degrade signal quality over long distance and therefore cannot be used with BearExtender.
Our 10 foot mini USB active repeater extension cable has built-in circuit board that amplifies the signal, ensuring no signal loss along the entire length of the cable. Thicker cable shielding also ensures optimal performance.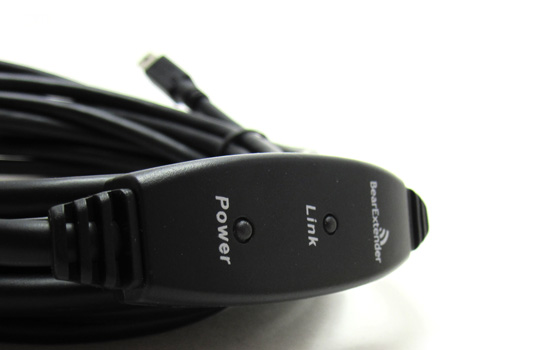 This part of the cable contains a circuit board that amplifies the signal ensuring no signal loss along the entire length of the cable
Designed for BearExtender
This cable connects directly into BearExtender's mini USB port. There is no need to use a standard USB cable with this. Simply plug one end of our active repeater cable into your computer, and the other end into BearExtender.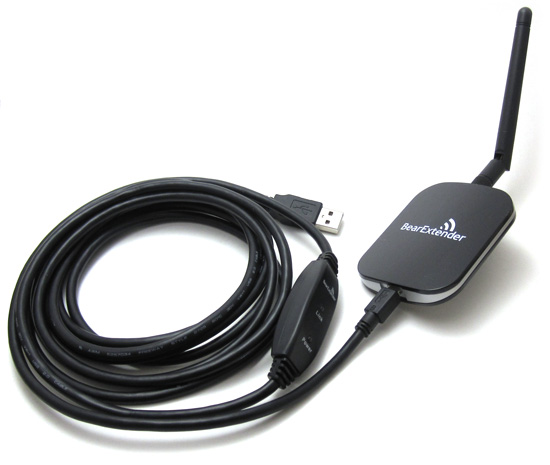 Connects directly into BearExtender. Simply plug the other end into a USB port.
Compatibility
BearExtender Mac

BearExtender PC
Does this cable only work with BearExtender?
This cable is manufactured by BearExtender and designed specifically for the power requirements of BearExtender. It should work with other model long range Wi-Fi adapters and USB devices that do not exceed the 500 mA power input requirement of BearExtender.
Technical Specifications
• Type-A male to Mini-B 5 Pin (USB to Mini USB)
• Rated for High Speed USB 2.0
• Thicker shielding to prevent power loss
• Backward compatible with USB 1.1 devices
• 10 feet length (3 meters)
• Mac and PC compatible
•
Not weather proof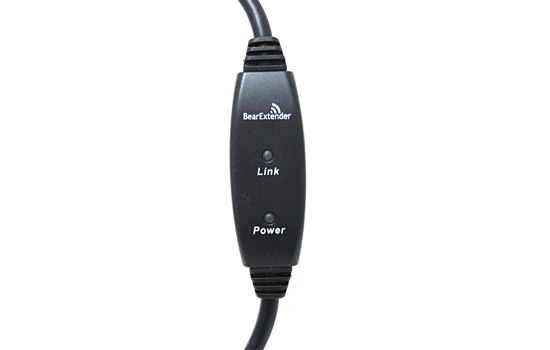 LEDs show power and link (connection) status.